Instructors: Dr. Tom Smith
Cost: $390
Summary

This machine learning video course addresses the needs of geoscientists with a wide range of machine learning (ML) experience, many of whom may consider themselves clueless. We start by addressing two perspectives: machine learning looking for geoscience work and workers who wonder how machine learning might benefit our industry.
Aspects of supervised learning, unsupervised learning, classification and reclassification are introduced to illustrate how they work on seismic data. We spend time on machine learning not as an end-all-be-all but as a new set of tools which let us interpret our seismic data on a new, higher level to further reduce risks and identify anomalies which we might otherwise miss.

What is machine learning and how does it apply to seismic exploration and unconventional resource development?
What is the difference between supervised and unsupervised machine learning?
When is an analysis statistical and when is it machine learning?
What is attribute space and what is the mathematical foundation of this technology?
How do you know if the results are any good?
What are some case histories that illustrate machine learning principals?
What are some practical tips?
Each of these topics will include one or more examples and simple  exercises to illustrate a principal where appropriate.

Operation

Practice 

Foundation 

Prediction

–

 Supervised and Unsupervised Learning

– Geobodies

– Seismic Processing for 

– The Best Well

– MLP; CNN; FCN;  k-means; SOM 

– Geobody Classification 

  Machine Learning 

– The Best Seismic Processing

– Attribute space 

– Below-Tuning 

– Attribute Selection List 

– Over-Fitting 

– Classification 

– Fluid Contacts 

– Objectives 

-Cross-Validation 

-Geobody Seismic Facies 

– Principal Component   Analysis

– Who Makes the Best Predictions?

 

– Making Predictions 
Want more information about Machine Learning Essentials for Seismic Interpretation?
[forminator_form id="10078″]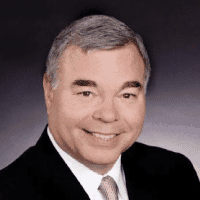 Dr. Tom Smith received a BS and MS degree in Geology from Iowa State University. His graduate research focused on a shallow refraction investigation of the Manson astrobleme. In 1971, he joined Chevron Geophysical as a processing geophysicist but resigned in 1980 to complete his doctoral studies in 3D modeling and migration at the Seismic Acoustics Lab at the University of Houston. Upon graduation with the Ph.D. in Geophysics in 1981, he started a geophysical consulting practice and taught seminars in seismic interpretation, seismic acquisition and seismic processing. Dr. Smith founded Seismic Micro-Technology in 1984 to develop PC software to support training workshops which subsequently led to development of the KINGDOM Software Suite for integrated geoscience interpretation with world-wide success.
The Society of Exploration Geologists (SEG) recognized Dr. Smith's work with the SEG Enterprise Award in 2000, and in 2010, the Geophysical Society of Houston (GSH) awarded him an Honorary Membership. Iowa State University (ISU) has recognized Dr. Smith throughout his career with the Distinguished Alumnus Lecturer Award in 1996, the Citation of Merit for National and International Recognition in 2002, and the highest alumni honor in 2015, the Distinguished Alumni Award.  The University of Houston College of Natural Sciences and Mathematics recognized Dr. Smith with the 2017 Distinguished Alumni Award.  
In 2009, Dr. Smith founded Geophysical Insights, where he leads a team of geophysicists, geologists and computer scientists in developing advanced technologies for fundamental geophysical problems.  The company launched the Paradise® multi-attribute analysis software in 2013, which uses Machine Learning and pattern recognition to extract greater information from seismic data. 
Dr. Smith has been a member of the SEG since 1967 and is a professional member of SEG, GSH, HGS, EAGE, SIPES, AAPG, Sigma XI, SSA and AGU. Dr. Smith served as Chairman of the SEG Foundation from 2010 to 2013.  On January 25, 2016, he was recognized by the Houston Geological Society (HGS) as a geophysicist who has made significant contributions to the field of geology.  He currently serves on the SEG President-Elect's Strategy and Planning Committee and the ISU Foundation Campaign Committee for Forever True, For Iowa State.  

This introductory two day course to Paradise enables geoscientists and engineers to use the major workflows and become acquainted with the basic capabilities of the multi-attribute analysis platform. Students will be trained in applying Principal Component Analysis (PCA) to a group of attributes to identify the most significant attributes in the set, then running, viewing and analyzing Self-Organizing Maps (SOMs) on selected attributes using different neural network configurations.

This is a specialized course ("Workshop") exclusively for geoscientists, who have taken or used the Paradise software and would like an introduction to the new capabilities in version 3.2, as well as a refresher in best practices in the application of the software. In the Paradise Express workshop geoscientists will cover the basics of multi-attribute seismic analysis using the Paradise Suite of Software.