Contact us today to schedule a demo.
Machine Learning is changing the way interpretation is done. Find out how these geoscientists are using machine learning to reveal unprecedented levels of detail in seismic data.
New Tools for Interpretation
Select an icon below to learn more about powerful, straightforward workflows in Paradise
"…machine learning software in Paradise is applied to seismic attributes to find patterns and important geology… [and] Self-Organizing Maps are used to analyze data at single sample resolution."
— American Oil & Gas Reporter

Paradise enables every interpreter to use powerful machine learning processes through straight forward, left-to-right guided workflows. Learn more about how to set up and generate a PCA chart of attributes and SOM classification results, then use the unique 2D Colormap with the 3D Viewer to interpret geobodies.
"Paradise distills a variety of information from many attributes simultaneously at single sample resolution… This is one of the many differences in the application of machine learning and pattern recognition methods available in Paradise."
— GEO ExPro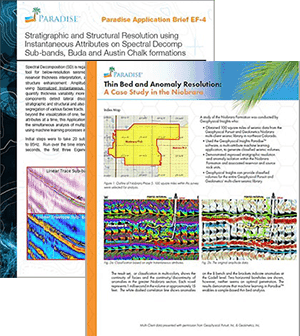 Read case studies on the application of machine learning processes, including Self-Organizing Maps (SOM's) and Principal Component Analysis (PCA), as applied to seismic attributes in various geologic settings, including onshore – conventional and unconventional – and offshore.