Machine Learning is changing the way interpretation is done. Find out how geoscientists are using machine learning to reveal unprecedented levels of detail in seismic data.

Advanced Trends in Machine Learning for Seismic Fault Delineation

A Combined Deep Learning and Unsupervised Machine Learning Fault Detection Workflow

A multi-disciplinary approach to establish a workflow for the application of machine learning for detailed reservoir description – Wisting case study
Select an icon below to learn more about powerful, straightforward ThoughtFlows® in Paradise
See Paradise in Action at Upcoming Events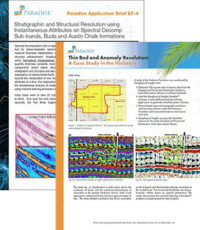 Read case studies on the application of machine learning and deep learning to seismic interpretation.