Request Access to SEG 2019 Presentations
Machine Learning is changing the way interpretation is done. Find out how these geoscientists are using machine learning to reveal unprecedented levels of detail in seismic data.
Data Analytics & AI Capabilities
Select an icon below to learn more about powerful, straightforward ThoughtFlows
™

in Paradise
Identify attributes having the highest variance and contribution among a set of attributes in a geologic setting
Classify multiple attribute volumes simultaneously utilizing Self-Organizing Maps (SOM), an unsupervised machine learning process
Generate attributes to extract meaningful geological information and as input into machine learning analysis for advanced interpretation
Capture seismic facies based on distinctive seismic amplitude patterns using deep learning technology
Produce fault probability volumes based on already generated fault engines (models) or from interpreter guided trained engines
"We continue to find new insights in the Utica play using the Paradise AI workbench. The results corroborate nicely with ground truth. Using machine learning is now a key part of our interpretation workflow."
Randall Hunt
Staff Geophysicist, Range Resources
"Anyone who is involved in prospect evaluation and reservoir characterization should have no problem seeing evidence of the stratigraphic and reservoir facies details that a properly constructed multi-attribute classification can provide."
Dr. Bob Hardage
Former SEG President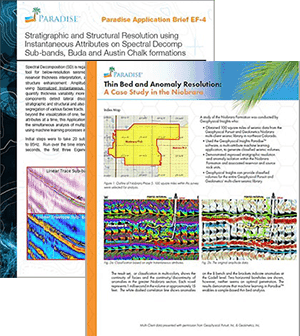 Read case studies on the application of machine learning and deep learning to seismic interpretation.