Request Access to SEG 2019 Presentations
Machine Learning is changing the way interpretation is done. Find out how these geoscientists are using machine learning to reveal unprecedented levels of detail in seismic data.
Data Analytics & AI Capabilities
Select an icon below to learn more about powerful, straightforward ThoughtFlows
™

in Paradise
Identify attributes having the greatest contribution among a set of attributes in a geologic region
Classify multi-attribute data to map the distribution of seismic facies that correlate with geology using the SOM machine learning process
Generate attributes to extract meaningful geological information and as input to AI analysis
Calculate volumetrics and estimate recoverable hydrocarbons using Machine Learning (ML) geobodies
Capture seismic facies based on distinctive seismic amplitude patterns using deep learning technology
Produce fault labels and probability volumes automatically with the option to pick examples using deep learning technology
"We continue to find new insights in the Utica play using the Paradise AI workbench. The results corroborate nicely with ground truth. Using machine learning is now a key part of our interpretation workflow."
Randall Hunt
Staff Geophysicist, Range Resources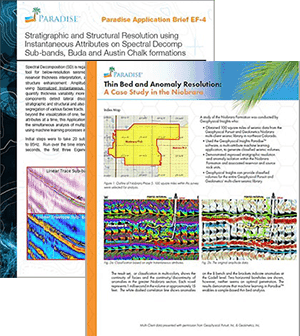 Read case studies on the application of machine learning  and deep learning to seismic interpretation.