Abstract
Improving the accuracy and completeness of subtle discontinuities in noisy seismic data is useful for mapping faults, fractures, unconformities, and stratigraphic edges. We have developed a workflow to improve the quality of coherence attributes. First, we apply principal component structure-oriented filtering to reject random noise and sharpen the lateral edges of seismic amplitude data. Next, we compute eigenstructure coherence, which highlights the stratigraphic and structural discontinuities. We apply a Laplacian of a Gaussian filter to the coherence attribute that sharpens the steeply dipping faults, attenuates the stratigraphic features parallel to the seismic reflectors, and skeletonizes the unconformity features subparallel to the reflectors. Finally, we skeletonize the filtered coherence attribute along with the fault plane. The filtered and skeletonized seismic coherence attribute highlights the geologic discontinuities more clearly and precisely. These discontinuous features can be color coded by their dipping orientation or as a suite of independent, azimuthally limited volumes, providing the interpreter a means of isolating fault sets that are either problematic or especially productive. We validate the effectiveness of our workflow by applying it to seismic surveys acquired from the Gulf of Mexico, USA, and the Great South Basin, New Zealand. The skeletonized result rejects noise and enhances discontinuities seen in the vertical and lateral directions. The corendering of the "fault" azimuth and the fault-dip magnitude exhibits the strengths of the discontinuities and their orientation. Finally, we compared our workflow with the results generated from the swarm intelligence and found our method to be better at tracking short faults and stratigraphic discontinuities.
Introduction
Identification and mapping faults is one of the most important steps in seismic data interpretation in conventional plays, whereas fault identification is critical for identifying potential drilling hazards and characterizing natural fractures in unconventional resource plays. Although major faults seen in a seismic amplitude volume can be easily identified and picked by experienced interpreters, the process is still time consuming, particularly in picking more subtle faults masked by noise. A huge effort has been made to accelerate the procedure of seismic interpretation. In this paper, we introduce a 3D workflow that minimizes coherence artifacts, links disconnected faults and stratigraphic edges, and skeletonizes the results.
Coherence (Marfurt et al., 1998; Gersztenkorn and Marfurt, 1999) is routinely used to detect structural discontinuities in 3D seismic data. Other edge-detection algorithms (e.g., Luo et al.,1996; Dorn et al., 2012; Wang et al., 2016) provide similar results. Unfortunately, coherence measures all lateral discontinuities, including where steeply dipping coherent noise interferes with more gently dipping reflectors. Coherence also delineates channel edges, carbonate buildups, slumps, collapse features, and angular unconformities. In addition, coherence can also be used to detect chaotic textures in multiattribute seismic facies analysis (Qi et al., 2016). Automatic fault extraction in most commercial software packages requires that the seismic attribute is first smoothed prior to skeletonization. Seismic data conditioning for fault interpretation includes removing incoherent noise, sharpening the edges between the hanging wall and footwall, and flattening the spectrum of the seismic data. Fehmers and Höcher (2003) propose an edge-preserving structure-oriented filtering (SOF) workflow that uses anisotropic diffusion to reject crosscutting noise in 3D seismic data. Marfurt (2006) generalizes an algorithm developed by Luo (2002), based on overlapping Kuwahara windows. Davogustto and Marfurt (2011) combine these two approaches into one algorithm and cascade them with kx-ky footprint suppression. Zhang et al. (2015) apply the SOF workflow to prestack time-migrated data that improves prestack seismic inversion results. Spectral balancing also improves the coherence image and partially diminished the stair-step artifacts commonly seen on the vertical slices. All these processes are applied to the seismic amplitude data and can be thought to be seismic data processing.
However, one can also filter the coherence image, which we call "image processing." One of the more popular algorithms is based on swarm intelligence (Randen et al., 2001; Pedersen et al., 2002). Some automated fault-extraction algorithms need human supervision to select appropriate pilot samples or traces. Other innovations include an edge-detection algorithm described by Zhang et al. (2014) that generates skeletonized fault sticks on time slices. The local fault-extraction method can result in a suite of one- pixel-thick labeled fault surfaces from seismic data (Cohen et al., 2006). Wu and Hale (2015) describe a method that maps intersecting faults based on Hale (2013)'s fault-construction technique. AlBinHassan and Marfurt (2003) and Boe (2012) apply Radon transforms to improve fault images, whereas Kadlec et al. (2008) use level sets to address the same objective. Barnes (2006) constructs a second moment tensor of coherence values falling with an analysis window about each voxel to determine the fault orientation, rejecting anomalies parallel to stratigraphy. He then dilates the images to connect disjointed fault segments, followed by skeletonization to reduce their thickness.
Other 3D attribute-based visualization techniques (Wallet et al., 2011; Qi et al., 2014; Marfurt, 2015; Wu and Hale, 2016) are also useful for fault and discontinuity interpretation. Faults illuminated by different geometric attributes can be corendered using red, green, and blue (RGB) or cyan, magenta, and yelow (CMY) to corender multiple coherence volumes computed from spectral components (Henderson et al., 2008; Li and Lu, 2014). Dewett and Henza (2016) extend this approach beyond these coherence images using self-organizing maps to combine the results. These combined fault images were subsequently enhanced using swarm intelligence.
In this paper, we introduce a 3D fault directional skeletonization workflow (Figure 1) that uses the dip magnitude and azimuth of a directional Laplacian of a Gaussian (LoG) enhanced discontinuities image. We begin our paper by using principal-component SOF to suppress the random and steeply dipping coherent noise on the seismic amplitude data. Then, we compute the coherence attribute from the original and filtered seismic amplitude volumes and compare the results. Next, we apply a directional LoG filter resulting in a smooth but somewhat blurred image. Finally, we skeletonize the LoG filtered image perpendicularly to sharpen the locally planar features.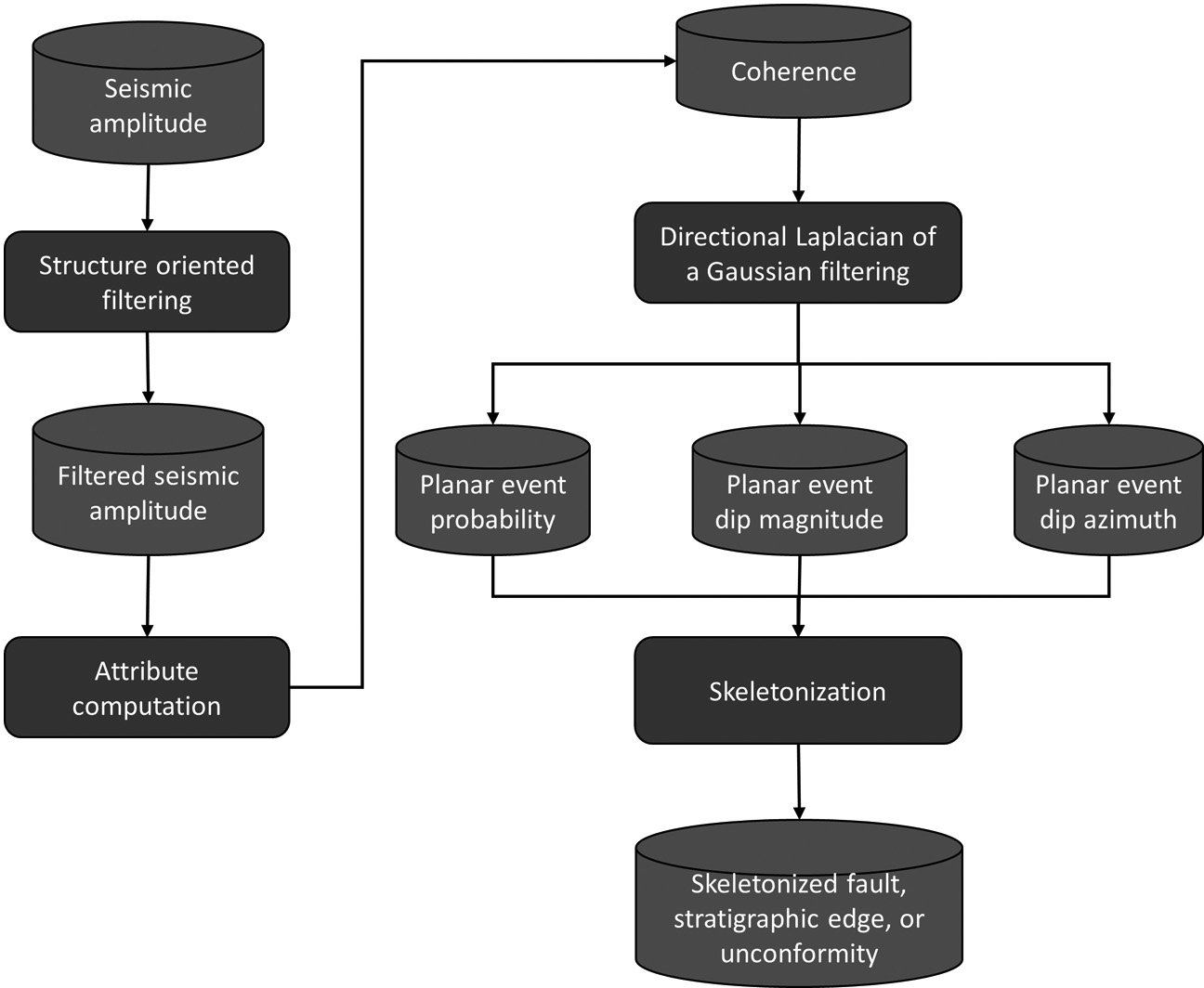 You must log in to read the rest of this article. Please log in or register as a user.
References
AlBinHassan, N. M., and K. J. Marfurt, 2003, Fault detection using Hough transforms: 73rd Annual International Meeting, SEG, Expanded Ab- stracts, 1719–1721.
Bakker, P., L. J. van Vliet, and P. W. Verbeek, 1999, Edge-preserving ori- entation adaptive filtering: Proceedings IEEE-CS Conference on Com- puter Vision and Pattern Recognition, 535–540.
Barnes, A. E., 2006, A filter to improve seismic discontinuity data for fault interpretation: Geophysics, 71, no. 3, P1–P4, doi: 10.1190/1.2195988.
Boe, T. H., 2012, Enhancement of large faults with a windowed 3D Radon transform filter: 82nd Annual International Meeting, SEG, Expanded Ab- stracts, doi: 10.1190/segam2012-1008.1.
Cartwright, J. A., D. James, and A. Bolton, 2003, The genesis of polygonal fault systems: A review, in P. Van Rensbergen, R. R. Hillis, A. J. Maltman, and C. K. Morley, eds., Subsurface sediment mobilization: Geological Society of London, Special Publications, 223–242.
Cohen, I., N. Coult, and A. A. Vassiliou, 2006, Detection and extraction of fault surfaces in 3D seismic data: Geophysics, 71, no. 4, P21–P27, doi: 10.1190/1.2215357.
Davogustto, O., and K. J. Marfurt, 2011, Removing acquisition footprint from legacy data volumes: 81st Annual International Meeting, SEG, Ex- panded Abstracts, 1025–1029.
Dewett, D. T., and A. A. Henza, 2016, Spectral similarity fault enhancement: Interpretation, 4, no. 1, SB149–SB159, doi: 10.1190/INT-2015-0114.1.
Dorn, G. A., B. Kadlec, and P. Murtha, 2012, Imaging faults in 3D seismic volumes: 82nd Annual International Meeting, SEG, Expanded Abstracts, doi: 10.1190/segam2012-1538.1.
Fehmers, G., and C. F. W. Höcher, 2003, Fast structural interpretation with structure-oriented filtering: Geophysics, 68, 1286–1293, doi: 10.1190/1.1598121.
Gersztenkorn, A., and K. J. Marfurt, 1999, Eigenstructure based coherence computations as an aid to 3D structural and stratigraphic mapping: Geo- physics, 64, 1468–1479, doi: 10.1190/1.1444651.
Hale, D., 2013, Methods to compute fault images, extract fault surfaces, and estimate fault throws from 3D seismic images: Geophysics, 78, no. 2, O33–O43, doi: 10.1190/geo2012-0331.1.
Henderson, J., S. J. Purves, and G. Fisher, 2008, Delineation of geological elements from RGB color blending of seismic attributes using a sem- blance-based coherency algorithm: The Leading Edge, 27, 342–350, doi: 10.1190/1.2896625.
Kadlec, B., G. Dorn, H. Tufo, and D. Yuen, 2008, Interactive 3-D compu- tation of fault surfaces using level sets: Visual Geoscience, 13, 133–138, doi: 10.1007/s10069-008-0016-9.
Li, F., and W. Lu, 2014, Coherence attribute at different spectral scales: In- terpretation, 2, no. 1, SA99–SA106, doi: 10.1190/INT-2013-0089.1.
Luo, Y., 2002, Edge-preserving smoothing and applications: The Leading Edge, 21, 136–158, doi: 10.1190/1.1452603.
Luo, Y., W. G. Higgs, and W. S. Kowalik, 1996, Edge detection and strati- graphic analysis using 3D seismic data: 66th Annual International Meet- ing, SEG, Expanded Abstracts, 324–327.
Machado, G., A. Alali, B. Hutchinson, O. Olorunsola, and K. J. Marfurt, 2016, Display and enhancement of volumetric fault image: Interpretation, 4, no. 1, SB51–SB61, doi: 10.1190/INT-2015-0104.1.
Marfurt, K. J., 2006, Robust estimates of 3D reflector dip and azimuth: Geo- physics, 71, no. 4, P29–P40, doi: 10.1190/1.2213049.
Marfurt, K. J., 2015, Techniques and best practices in multiattribute display: Interpretation, 3, no. 1, B1–B23, doi: 10.1190/INT-2014-0133.1.
Marfurt, K. J., R. L. Kirlin, S. H. Farmer, and M. S. Bahorich, 1998, 3D seismic attributes using a running window semblance-based algorithm: Geophysics, 63, 1150–1165, doi: 10.1190/1.1444415.
Pedersen, S., T. Randen, L. Sonneland, and O. Steen, 2002, Automatic 3D fault interpretation by artificial ants: 72nd Annual International Meeting, SEG, Expanded Abstracts, 512–515.
Qi, J., F. Li, B. Lyu, O. Olorunsola, K. J. Marfurt, and B. Zhang, 2016, Seismic fault enhancement and skeletonization: 86th Annual International Meeting, SEG, Expanded Abstracts, 1966–1970.
Qi, J., T. Lin, T. Zhao, F. Li, and K. J. Marfurt, 2016, Semisupervised multi- attribute seismic facies analysis: Interpretation, 4, no. 1, SB91–SB106, doi: 10.1190/INT-2015-0098.1.
Qi, J., B. Zhang, H. Zhou, and K. J. Marfurt, 2014, Attribute expression of fault-controlled karst — Fort Worth Basin, TX: Interpretation, 2, no. 3, SF91–SF110, doi: 10.1190/INT-2013-0188.1.
Randen, T., S. Pedersen, and L. Sønneland, 2001, Automatic extraction of fault surfaces from three-dimensional seismic data: 71st Annual International Meeting, SEG, Expanded Abstracts, 551–554.
Wallet, B., V. Aarre, A. Davids, T. Dao, and K. J. Marfurt, 2011, Using a hue-saturation color map to visualize dewatering faults in the overburden of the Hod Field, North Sea: 81st Annual International Meeting, SEG, Expanded Abstracts, 946–950.
Wang, X., J. Gao, C. Chen, C. Yang, and Z. Zhu, 2016, Detecting method of seismic discontinuities based on high dimensional continuous wavelet transform (in Chinese): Chinese Journal of Geophysics, 29, 3394–3407.
Wu, X., and D. Hale, 2015, 3D seismic image processing for faults: Geo-physics, 81,   no.   2,   IM1–IM11,   doi:   10.1190/geo2015-0380.1.
Wu, X., and D. Hale, 2016, Automatically interpreting all faults, unconformities, and horizons from 3D seismic images: Interpretation, 4, no. 2, T227– T237, doi: 10.1190/INT-2015-0160.1.
Zhang, B., D. Chang, T. Lin, and K. J. Marfurt, 2015, Improving the quality of prestack inversion by prestack data conditioning: Interpretation, 3, no. 1, T5–T12, doi: 10.1190/INT-2014-0124.1.
Zhang, B., Y. Liu, M. Pelissier, and N. Hemstra, 2014, Semiautomated fault interpretation based on seismic attributes: Interpretation, 2, no. 1, SA11– SA19, doi: 10.1190/INT-2013-0060.1.
Request access by filling the form below to download full PDF.