Michael Dunn hosts a round table discussion with Dr. Randall Gentry, Dr. Elita De Abreau, Dr, Lennart Johnsson, and Dr. Taoufik Ait-Ettajer on "Machine Learning Applications Today." First presented at the 2021 Energy Machine Learning Symposium.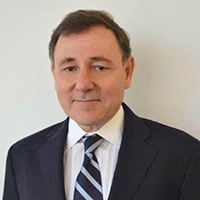 Michael Dunn
SVP of Business Development – Geophysical Insights
Michael A. Dunn is an exploration executive with extensive global experience including the Gulf of Mexico, Central America, Australia, China and North Africa. Mr. Dunn has a proven a track record of successfully executing exploration strategies built on a foundation of new and innovative technologies. Currently, Michael serves as Senior Vice President of Business Development for Geophysical Insights.
He joined Shell in 1979 as an exploration geophysicist and party chief and held increasing levels or responsibility including Manager of Interpretation Research. In 1997, he participated in the launch of Geokinetics, which completed an IPO on the AMEX in 2007. His extensive experience with oil companies (Shell and Woodside) and the service sector (Geokinetics and Halliburton) has provided him with a unique perspective on technology and applications in oil and gas. Michael received a B.S. in Geology from Rutgers University and an M.S. in Geophysics from the University of Chicago.