Guided Workflows: A Step-by-Step Process
Scroll through the steps below to gain a sense of how straightforward Paradise is to use, starting from screens that show how data is loaded in Paradise, and proceeding through the analysis and interpretation process. While Paradise is a class of learning machines, it has been designed to be used by interpreter who seeks to obtain greater information from the seismic response.

Load Data & Generate Attributes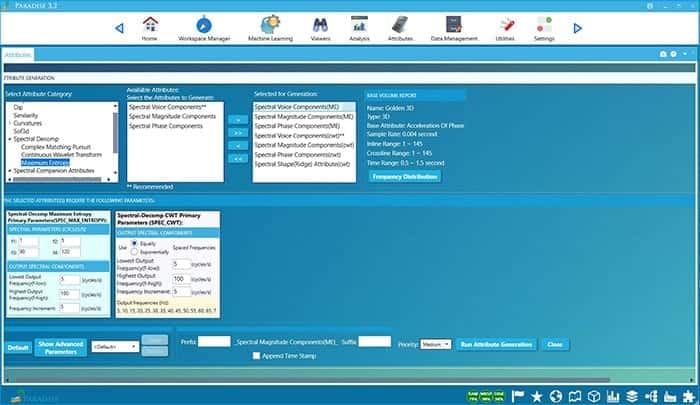 Use the new Attribute Generator in Paradise to calculate attributes within Paradise for convenient loading. Leveraging the world-class attributes routines from the AASPI Consortium at the University of Oklahoma, the Attribute Generator produces over 80 attributes types, including amplitude, geometric, and spectral decomposition. 
Attributes are straightforward to generate and apply using guided ThoughtFlows™ in Paradise.
Paradise has been designed to make data import efficient and straightforward. Once a few parameters are set for the seismic and attribute volumes within a survey, multiple SEGY files can be loaded with a single command. As the loading proceeds, Paradise creates bricking files called PDM that are designed for fastest processing efficiency. This is just one example of how data management in Paradise has been optimized to work with all interpretation software packages.  

Principal Component Analysis (PCA) is a linear process that helps to determine those attributes that contribute most of the information to the study area. Use PCA on a superset of attributes to quantify the relative contribution of each attribute based on its variance. 
The attributes within a region analyzed using PCA can be set according to inline, crossline, time range, between horizons, or above and below a horizon. Constrained around production zones, for instance, PCA can be used to obtain a better understanding of the attributes that highlight geobodies. Apply PCA before running a Self-Organizing Map (SOM) to distill those attributes that are most meaningful, then run a SOM on those attributes to highlight geobodies.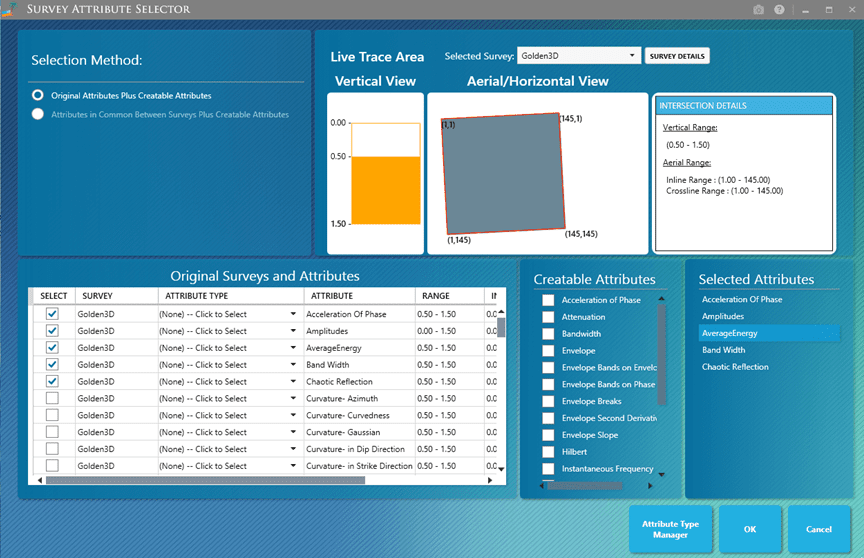 PCA produces an Eigenvalue per inline across the user-defined area in the form of a bar chart (top) and a set of Eigenvectors (bottom left) that indicate the direction and magnitude of greatest variance among the set of attributes. Each Eigenvalue reflects the extent of variance of the set of attributes in the PCA and can be selected at any inline to reveal its corresponding set of Eigenvectors. The chart at the top can be used to understand how the variance among the selected set of attributes changes across the survey. 
Select each Eigenvector to expose the relative contribution of each attribute for that Eigenvector, as shown in the chart on the lower right. In this way, use the PCA process to quantify those attributes that are most significant to the region prior to running a SOM. Often, the first and second Eigenvectors are most significant to the geology.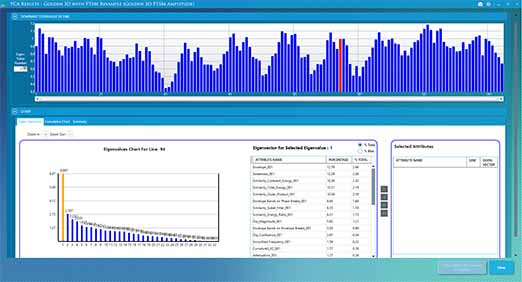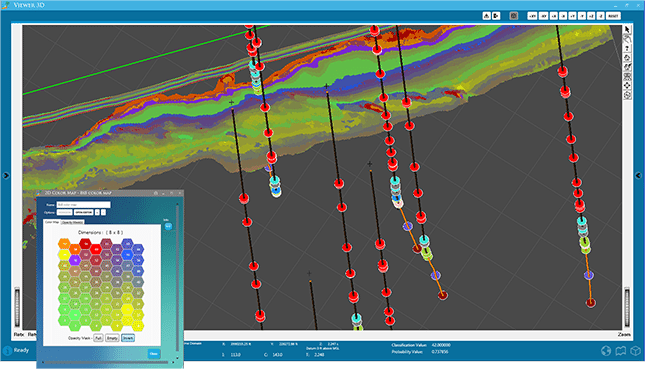 The SOM process is a powerful, non-linear data classification process that is sensitive to subtle changes in the volume. Using the straightforward, left-to-right guided workflows, run multiple SOM's with different configurations to analyze the region in detail. 
A good practice is to run a SOM having a 5X5, 8X8 and 10X10 neural map to see how classification results change at different resolutions, i.e., 25, 64, and 100 classes of data respectively. Since Paradise is both a batching and interactive technology, multiple SOM's can be queued and run while the interpreter is away. Use the Task Manager with Paradise to set job priorities and the number of processors to be dedicated to Paradise. 

Geobody generation and editing is an exciting part of the Paradise 3.2 release and unique to the Paradise machine learning platform.  Geobodies are created from neuron groups selected from a Self Organizing Map (SOM), and are used to generate a three-dimensional visualization of a geological feature, such as channels, sand bars, deltaic formations, or any other area of interest. The number of Geobodies generated depend upon the SOM topology and the number of neurons originally selected. 

Once Geobodies are generated, they can be used to help calculate the volumetrics of a geological feature; and therefore,  the amount of recoverable oil or gas by using industry-standard calculations.  Using Paradise to identify geobodies empowers interpreters with the ability to:
Investigate geobodies at the sample level of each neuron
Capture details on areas of interest, including volumetrics and statistics
Edit/clean-up selected geobodies by filling in areas or pruning extraneous samples
Export areas of interest to an interpretation system