Aldrin Rondon presents "Machine Learning Fault Detection: A Case Study". First presented at the 2021 Energy Machine Learning Symposium.
An innovative Fault Pattern Detection Methodology has been carried out using a combination of Machine Learning Techniques to produce a seismic volume suitable for fault interpretation in a structurally and stratigraphic complex field.
Through theory and results, the main objective was to demonstrate that a combination of ML tools can generate superior results in comparison with traditional attribute extraction and data manipulation through conventional algorithms.
The ML technologies applied are a supervised , deep learning, fault classification followed by an unsupervised, multi-attribute classification combining fault probability and instantaneous attributes.
The results are encouraging showing a higher level of structural details when compared with other interpretation techniques. Furthermore, visualization enhancement to better define stratigraphic relationships has also been partially achieved by the combination of fault probability volumes obtained from ML CNN fault detection procedure and multi-attribute classification of seismic features or SOM (Self Organizing Maps).
Machine Learning Technology was applied to a reprocessed seismic dataset in depth domain to generate a detailed, robust and reliable seismic fault attribute volume. The results are being used to constructing a more confident structural framework in the area and better understand stratigraphic trends and relationships to serve as input for static modeling.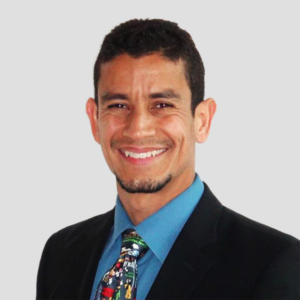 Aldrin Rondon
Senior Geophysicist Engineer and Seismic Interpreter – Dragon Oil
Bachelor's Degree in Geophysical Engineering from Central University in Venezuela with a specialization in Reservoir Characterization from Simon Bolivar University.
Over 20 years exploration and development geophysical experience with extensive 2D and 3D seismic interpretation including acquisition and processing.
Aldrin spent his formative years working on exploration activity in PDVSA Venezuela followed by a period working for a major international consultant company in the Gulf of Mexico (Landmark, Halliburton) as a G&G consultant. Latterly he was working at Helix in Scotland, UK on producing assets in the Central and South North Sea.  From 2007 to 2021, he has been working as a Senior Seismic Interpreter in Dubai involved in different dedicated development projects in the Caspian Sea.